The time had come the Walrus said
to talk of many things
of shoes and ships and sealing wax
of cabbages and kings
and why the sea is boiling hot
and whether Alella would float.

♥

A beautiful day driving from the ferry down to West Cork in bright winter sunlight, everything was so clear and sharp. It was strange that the traffic slowed up significantly after Cork. This was slightly frustrating as we were trying to get to Turkhead in time for Dinner. We also started noticing that some of the parking was especially random, even for Ireland, as cars had been left where they had stopped often in hedgerows or ditches. It transpired that County Cork had been experiencing severe frosts with ice on the roads, as one resident said when asked about the provision of gritting services  "Yes they do grit some roads, only we don't know which ones".  For West Cork such weather is almost unheard of so a little unpreparedness was to be expected.

After arriving and a glass of wine for Dara and I to unwind, mothers first inspection took place. As it was dark and really freezing outside this was very brief but at least the first impressions were favourable. As I have said before, I think my mother had never really expected to see Alella back again when I took her away in July so for her this was a very unexpected but pleasant surprise.
The next morning dawned very cold but with bright sunshine. The whole area was covered in frost twinkling in the morning sun. After breakfast the real inspection began, Alella was covered in frost but still looked great, a shame that the red bow looked a little droopy.
It was now time for the ultimate test, would Peggy approve of Peggy's perch?
This was a resounding success so I could finish screwing on those items such as fairleads, block eyes and the centreboard tackle that I had run out of time for in the UK.  Alella was then pushed into the barn as other family members were due to arrive and they knew nothing about the rebuild.
Christmas eve dawned cold but clear, another fabulous winter day was in prospect. I suggested a trip over to Sherkin for lunch at the "Islanders Rest". The others all thought I meant going in the punt not realising what was in the barn. The great surprise occurred while I was in Skibbereen getting petrol for the outboard and Ian was wondering around inspecting "the works" when he came upon Alella and not quite as he expected her either. When I got back from town I realised that my big Surprise Surprise moment had gone but everyone did seem pleased if slightly bemused.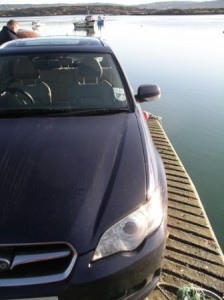 A rush to the jetty ensued with Alella in tow, disaster the tide was not over the end of the pier and falling. Now this is where the break-back trailer came into its own as we were able to safely launch over the end of the jetty using the winch. Mind not a place for the faint hearted while reversing especially as the driver can not see the edge!
Quickly Alella is launched, back into her element and ready for many more adventures.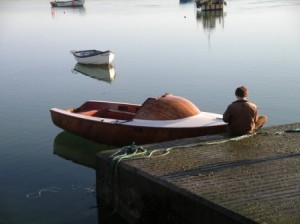 One of the local fishermen admiring the gleaming varnish said "Its nice to see Gordon's boat back". That about summed up all our feelings.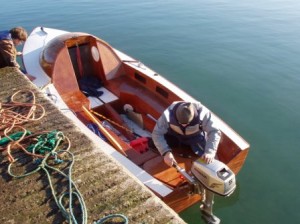 Outboard on and all aboard for Alella's first trip, the Murphy's could almost be tasted.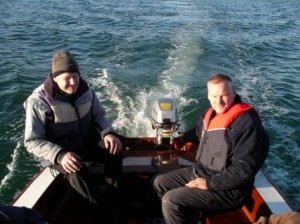 A short time later, with suitable posy pictures of everyone on board, we enjoyed lunch and a couple of glasses at the Island Rest before returning into a fabulous sunset.
The master mariners trying to look cool, not difficult in the middle of winter!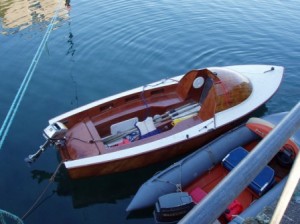 Moored off Sherkin pier, sitting peacefully.
Which way is home?
The bay was so still but the air so clear that every little detail stood out with great clarity.
Alella was moored and photographs taken before we all retired to a blazing fire and a Christmas eve feast.
Next morning the wind was howling around the cottage's eves so I slipped out down to the jetty and recovered Alella to put her back into the dry barn. It would have been a shame to let her get damaged after all the work to this point.
♥ Apologies to Lewis Carroll for my misuse of his "The Walrus and the Carpenter"