Just like at the time this bit seemed to go on and on and on….
It had all seemed so close to completion but then there always appeared another job, such as a cross beam that needed mortising or a panel that needed marking out and cutting. At least the boat now looked nearly complete and progress could be seen but would it be enough to make the cut off as the ferry had now been booked and I had committed to getting the boat back to Ireland before Christmas. As it was now mid November you can imagine how tight the schedule had become. The weather was also getting colder and the heaters in my tent were working overtime to keep everything warm enough to make progress.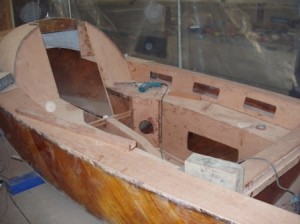 The cockpit was now coming together. The rear centreplate cross beam had been mortised into the side verticals before the tank sides were built. Pockets were also cut into the inner deck sides. This was a deviation from the original design but did provide storage for "jammy dodgers" while on passage. I also discovered that they were ideal for holding the fenders which were then always ready to be flipped out when needed.
The next bit was the cabin entry sides which were to incorpate a dry storage locker. The front and bottom panels of this locker can be seen in the picture above.
The sides were marked out and cut roughly to size, then accurately marked and fitted. A backing stringer was fitted on the forward edge along with the door support for the original perspex door.
Yes, The new layout was such that the cabin opening was exactly the same size as the original. It just did not feel like it while I was climbing in and out or should that be squeezing through.
  I was shall we say a little big for the space not at all how I remembered it all those years ago. Strangely I could still lie flat out on the cabin tank top so could have slept in the cabin, but I would not suggest that it would have been comfortable.
As the space on either side of the forward part of the plate case was to become the anchor and pump lockers various support beams were glued and screwed into place. To these would soon be attached various panels with the ones on top easily removable for easy access to the anchor when needed. The whole was also designed so that any water in this area would drain back down the centreboard slot.
I was by now feeling pretty chuffed with myself, you could almost feel the boat riding the waves. I keep coming back to the satisfaction I got from rebuilding Alella, both from the memories that it bought back but also the achievement of creating an object of beauty in its own right by my own hands.
When I had taken the boat apart I had noticed that the aluminium pintels were severely
corroded but the old rudder stock was still in good condition. However despite significant research on the web, I could not source pintels with a 9mm pin and hole. Was I looking in the wrong places? All I could find were 6mm ones which I am sure would have been strong enough but I would have had to make a new rudder stock. Thus the "best pintels in the world" were born. These were machined out of solid stainless steel and if they ever corrode I will eat my hat. These were machined by engineers AF Sanders in Wolverhampton. Thanks Carl and Tony your help was greatly appreciated. (Web address: http://www.afsanders.co.uk )